Add products
Shop for worth
₹

1,000.00
more to get free shipping!
Encourage Your Pastor Set (3 Books) -
Paperback
Ajith Fernando
,
Jonathan K. Dodson
,
Christopher Ash
Our church leaders work hard serving our local church families all year round. Why not take this opportunity, at the start of a new term, to encourage them with a great book that will help them to serve with joy and grace in the weeks and months ahead?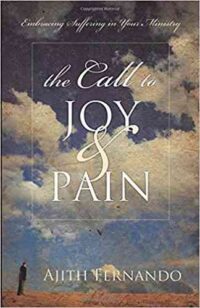 In stock
Description
Joy and pain are both aspects of the call of God for the Christian. The Bible even presents pain as a trigger for joy. The Call to Joy and Pain explores how this is so, showing the connection between rejoicing and suffering, how suffering draws us nearer to God, and how suffering makes us more effective in service.
Ministerial veteran Ajith Fernando combines biblical exposition, keen pastoral insight, and cross-cultural wisdom in his writing. He opens readers' eyes to a truth they may already suspect: we in the West have much to learn about suffering.
By examining Paul's words on the subject of suffering for Christ from Colossians 1:24-29, Fernando thoughtfully explains how suffering can be a blessing to the individual Christian and to the church as a whole. His book will help Christians joyfully embrace the life of service and total devotion to Jesus, despite the pain it entails
Leadership is hard. Pastoring through divisive times is even harder. How do we lead well when criticized? How do we keep loving the church when hurt by her? What does it look like to remain committed to the gospel in cultural division?
Seasoned pastor Jonathan Dodson comes alongside struggling pastors and ministry leaders to guide them into the comfort of Christ. But he doesn't stop there. Full of wisdom drawn from 2 Timothy, this book will equip you to lead the church with grace, charity, and spiritual power through divisive times.
Great for pastors and ministry leaders who need encouragement and insight, or are wrestling with their calling. Makes a thoughtful gift. Foreword written by Dane Ortlund.
Jonathan Dodson is the founding pastor of City Life Church in Austin, TX (part of the Acts 29 network of churches), founder of Gospel-Centered Discipleship.com, and author of numerous books including Gospel-Centered Discipleship and Our Good Crisis: Overcoming Moral Chaos with the Beatitudes of Jesus.
Lots of people who are involved in Christian ministry (whether paid or unpaid) find themselves having to step back from it. They have not lost their love for Christ, or their desire to serve him. But for one reason or another, they are exhausted and simply cannot carry on.
Christopher Ash knows this experience all too well. As a pastor of a growing church, and then in his role training people for ministry, he has found himself on the edge of burnout a number of times, and has pastored many younger ministers who have reached the end of their tether.
His wisdom has been distilled into this short, accessible book, in which he reveals a neglected biblical truth and seven keys that flow from it. This practical and biblical guidance will help enthusiastic Christians gain the mindset and lifestyle to protect themselves from burnout and serve Jesus for the long term in a sustainable way.
Only logged in customers who have purchased this product may leave a review.
Q & A
There are no questions yet
---
Additional Information
Weight

:

0.749 kg

Book Author/s

:

Ajith Fernando, Christopher Ash, Jonathan K. Dodson

Format

:

Paperback

Language

:

English

Publisher

:

The Good Book Company
---